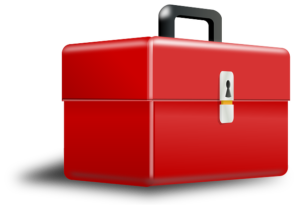 Taking on an organizing project is a big task. I often get questions from friends and family on what products they need to purchase before beginning a project. You will want to be prepared with the correct supplies without buying the wrong supplies or too many supplies. Before you run out to the store to stock up, take a look at the supplies a Professional Organizer has on hand. The items are in order of importance so you can gauge what you should invest in.
Permanent markers for labeling bags, boxes and bins.
Large trash bags for removing trash and donations, and for storing large, soft, bulky items.
Scissors for trimming, cutting, and opening packages and boxes.
Packing tape for sealing boxes and bins.
Zip close plastic bags of various sizes to contain small items.
Label maker for printing neat, uniform labels that can be adhered to nearly every surface.
Sticky notes work great for temporary labels on files, piles, bins and boxes.
Work gloves for moving items around and protecting your hands.
Bandages for nicks and scrapes on your hands and fingers.
Rubber bands and Velcro for wrapping, separating and containing.
File boxes with lids for sorting and storing files and other items. File boxes work great while organizing as they let you plan for purchasing bins.
Tape measure helps you measure what will fit where, so you aren't moving items multiple times to see what fits where.
Multi tool kit for hanging, leveling and disassembling items.
Scanner for retaining files and photos digitally to reduce papers and photos in your home and office. Preferably, a high capacity scanner than can handle many sheets per minute while scanning both sides of the document.
Paper shredder for destroying personal files. Preferably, a high quality shredder that can handle many sheets at one time, and won't get clogged up with an overlooked metal staple.
At Top Shelf Home Organizing, we love to help people get stuff done. See if Top Shelf Home Organizing can help you get your next organizing project started.  Contact Jayme to schedule a consult or chat about organizing.