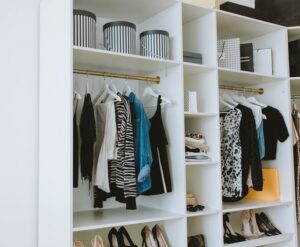 The season change is a great time to assess and change out your wardrobe. Here are three categories the experts use to make this event as fun and simple as possible.
Existing Season

Filter through your wardrobe for the current season before packing it away or moving it to the back of your closet. Pull all clothing items out and group them by categories. While going through each item, decide if you enjoyed the item this past season or did not. There will be items you simply did not wear or did not enjoy wearing. Those can be donated. Clearing out items that no longer fit, you don't like, or are worn out will make wardrobe changing now and the next season much easier.
Wardrobe Staples

Your wardrobe has items that transfer to multiple seasons. You will want to pull all these items out and sort them by category. Remove items that do not serve you anymore and pass them on. Take note of any staples that need to be replaced. Undergarments, socks, athletic wear, shoes, and jeans all fall into this area. Seasonal wardrobe changing is a good time to go through and organize your clothing staples.
New Season

Bringing out the clothing for the next season should feel fun and exciting. You may have stored these items in the basement, extra closet, or the back of your closet. These items should also be sorted by category. If there are any items you did not wear or did not want to wear the last time they were in your closet, donate them. Some clothing items might need to be tried on to ensure a good fit and a fabulous feeling when you wear them. Take note of any items that will need to be replaced.
Last Steps
Once all three categories have been sorted, organized, and purged, they can be combined into your closet and drawers. Off-season items can be laundered and neatly packed away. All items that are put back into your wardrobe should be items that fit well, make you feel fabulous, and provide good function.
When shopping for new items use your notes on items that need to be replaced to ensure you stay within your budget and have good focus. Your closet will have a fresh feel and coordinating your daily outfit will be fun and painless.
If changing out your wardrobe brings stress, we would love to help. Check us out at topshelfhomeorganizing.com or call Jayme at 262-373-9416.