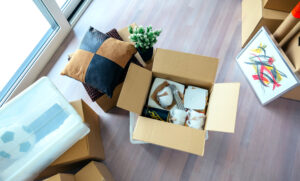 Deciding what to keep, donate, and toss through your organizing journey can help relieve the pressure of organizing. Identifying these three categories will depend on your personal needs and the time of your life. Your reason to get organized may be to keep your busy family functioning efficiently, to prepare to downsize and simplify your household or free up some space for the things you love. Everyone has a different "why" for their organizing journey.
Have a plan before beginning this process! Take an informal inventory of everything you have in your home. This inventory can be done with a simple pen, a legal pad of paper, and a walk-through of your home. Write down general categories of everything. While taking this informal inventory, make a preliminary note of where each item might go. You can also take note of what categories to start with. As this plan evolves, remember the goal is keeping what is really important and what you really love.
Top Shelf has prepared a guide to help you think through what to keep, donate, and toss.
The Keepers
Needs
The easy part of deciding what to keep is identifying what you need. These items are needed for daily life and are simple and basic. If you were to move into a camper or very small house, what items would you need to live? Basic cooking tools, a simple assortment of dishes, clothes, towels, and some toiletries are examples of items that are needed. In a larger family, there will be additional items that each family member needs to live and function.
Wants
Going beyond needs, there will be many other categories of items you would keep. The categories go on and on. We will touch on a sampling of these items such as heirlooms and memories, toys, household items, clothing, personal care, and hobbies. Wants is where we have balance practicality and excess. Your home is full of useful items, but if there are not being used, they are not useful to you at all.
Heirlooms and Memories
Heirlooms and memories are important to carry on your family legacy. These items should be just that, your legacy. Heirlooms and memories that have the strongest, happiest memories are what represent you. Items that do not represent your legacy and do not have the best memories can move into the donate or toss category. You might come across love letters, trophies and medals, a wedding dress, artwork, schoolwork, photos, and more photos. A sampling of these items that represent you and what you want others to remember is important.
You certainly would not want to burden your family with an excess of items that do not reveal your legacy or bring on sad and hurtful memories. For example, a medal from a marathon you actually didn't complete, participation trophies, your 3rd-grade spelling test, love letters from an abusive partner, and repeat photos of the same event are items that don't represent your legacy. Instead consider keeping your diplomas, a piece or two of artwork, taking photos of important trophies and metals, keeping important metals (military metals), and a love letter from your current spouse. Admittedly, heirlooms and memories are a tough category, but one that certainly needs to be addressed and organized.
Toys
Toys the children still engage in will remain on the keep list. Toys that no longer keep kids engaged or are damaged, might belong on another list. Saving toys for grandkids, and nieces and nephews may become a burden as toy safety is ever-changing. The size of the toys is another consideration. If it does not pack away nicely, the toy may not be worth saving.
Household Items
There are items that fall into the need category, but excess may need to move to the donate category. Think about items like dishes, linens, towels, makeup, self-care products, sporting goods, shoes, décor, etc. These are the areas you will want to think about how much of each item is reasonable to keep.
After you have determined what items are an absolute need, you can then determine a reasonable amount of wants in this category. This topic has been discussed over and over in the professional organizing world. This category ranges from the linen closet to the kitchen, to the china cabinet.
Make an informal list of all the categories within household items and place a quantity on a reasonable amount of each item you would like to keep. For example, you may want to keep two bath towels for each person in your household plus an additional four just for guests. Any excess towels are great candidates for donating to a charity that can utilize them. You may only need two or three pots of different sizes in your kitchen. Wine glasses may be reduced if you do not host large parties anymore.
Clothing
Clothing is a topic all on its own. We spend a lot of time and money on the purchase of clothing which makes it difficult to part with. Clothing that is worn and stained are candidates for textile recycling where the material itself is used to create new products. Clothing that does not fit, flatter, or function can be donated to a charity looking for clothing. Saving clothing of a previous size or two may cause you to stress trying to be a size you were in a different season of life. Love what you wear now, and reward yourself with something new when weight and fitness goals are reached. Be ruthless in this department. If you do not truly enjoy wearing an item, it is time to pass it on to someone who needs it.
Personal Care
Personal care items can quickly accumulate, especially if they are not organized and inventoried regularly. Once you gather and categorize the items, toss anything that is old, expired, and open, and not wanted. Unopened items that are not wanted can be donated to local shelters. Take note of what you have remaining.
Have a central storage location for these items for better inventorying. Understanding what you have will reduce over purchasing of these items. Additional information on organizing these items can be found in Simplify and Organize Your Linen Closet.
Hobbies
We have hobbies that we once enjoyed, hobbies we currently enjoy, and hobbies we aspire to pursue. All these hobbies require supplies and equipment. Focus on just keeping supplies for the hobby you are currently into and have time for and hobbies that are likely on hold. The supplies and equipment for past hobbies and aspirational hobbies might have a better life with someone else who has the time for them. They make great donations for resale.
Off to Donation
Donating items can be a simple as dropping off all items at a donation center, or you can carefully select what charity will put each item to its best use. Be realistic about how much time you spend deciding on what goes where. The goal is to put your useful stuff back in use by someone who needs it. Donation centers can be overwhelmed with items so be mindful of what you send their way.
What to Donate
Donate items that are in usable condition. Items that are missing parts, broken, stained, or torn can be recycled or sent to a landfill. Donation centers typically do not take electronics, certain baby items, mattresses, or furniture. Expired items should bypass donation and go right to the landfill.
Where to Donate
Different organizations need different items. If time allows, you can send different items to different organizations. For example, animal shelters can use linens and towels, hospitals can use clothing for patients to wear home when their clothing has been destroyed or is needed as evidence, shelters need toiletry products, and food pantries will take unperishable food that is not expired. This Donation Guideline published by Goodwill Industries is a great resource for general donation information.
Off to the Recycling Center or Landfill
When items are no longer useful or functional, they can be recycled or disposed of. The local refuse and recycling service publish what items can be picked up for curbside recycling and disposal. Understand what can be recycled through this service in your area. Additional items can often time be picked up for recycling for an additional fee. Other items may need to be brought to a specific recycling center. These items can include textiles and clothing, plastic gardening pots, plastic shopping bags, motor oil, and wood.
There are items such as oil-based paints, batteries, and hazardous materials that will need to be brought to a household hazardous waste drop off-center. Learning your municipality's rules will help make decisions on what items can go where.
Have a Plan
There is no doubt going through personal and family items is emotional, exhausting, and can feel endless. A strategic plan to tackle this daunting task will help keep you on task. Start with easy items such as food and toiletries. Making some simple progress, in the beginning, will feel good and motivate you to keep going. It is not about getting rid of everything. It is about keeping what is really important.
Top Shelf Home Organizing has helped dozens of households simplify, reduce, and get organized. If this process is overwhelming to you, we can help. Contact Jayme to see how Top Shelf Home Organizing can help you.