Part 3 of 3 by Laurel Schenkoske
The goal was to bring my home office from cluttered to focused in two weeks. I did it. My office is now a place where I can work without distraction from physical clutter or from mental over-stimulation.
Last week I worked through the process of making things worse before better by pulling every item out. And due to this, all the randomness is now either out of the house, or in an appropriate place. That clears a lot off my mind.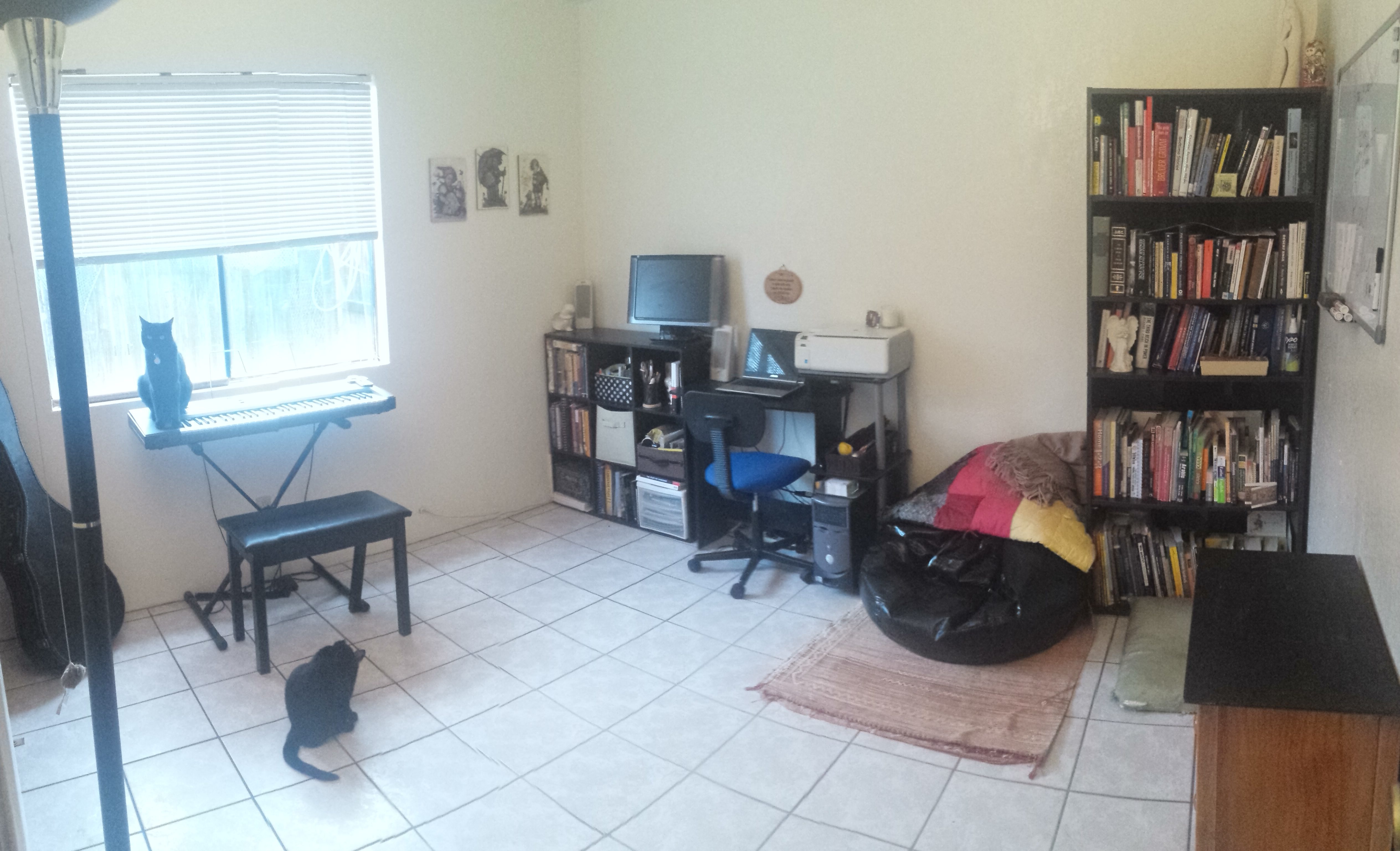 The work done at home is split between reading and writing, and I have an appropriate space to do each. For reading, I settle into the bean bag chair, with my Moroccan rug sticking out just enough to keep my feet off the cold tile. For writing, my desk is clear of excess clutter. (A longer-term goal is to get rid of the PC and monitor, but for now, I'm still using both computers.)
Hanging on the walls are simple reminders to keep me both calm and focused: an inspirational message above my desk, my grandma's old Hummel pictures on the wall, ceramic angel statues throughout. There's also a white board with my work-to-do list (our home to-do list is in the kitchen), and a larger board where I can scribble out my work while thinking – just like Sheldon on the Big Bang Theory.
As for noise distractions, I have great success listening to music in alpha-wave frequency. This type of music does more than block out noise; with headphones, it helps stimulate the brain's ability to think. There are many free tracks out there, up to 6 hours long.
The process of getting the office organized was simpler than I'd expected. And because I focused on just one room, it was manageable. Even when I feel the rest of the house is in chaos, I have a space to go where everything is in its place. In this environment, I can feel calm, and I can get work accomplished. The cats are happy, too!
While I met my two-week goal, the task going forward will be maintenance. For me, this will mean clearing my food dishes and coffee mug out; folding up the blankets after reading; putting away books, pens, and highlighters – every day. See Top Shelf Home Organizing Process for simple steps for organization and upkeep.
By: Laurel Schenkoske
Laurel is a busy college instructor, Ph. D. student and wife.  She is also writer for Top Shelf Home Organizing.  Follow Laurel as she discovers efficiencies in her own home, office and busy routine.