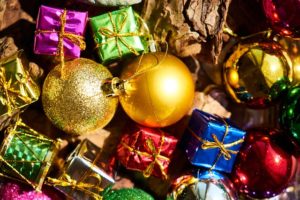 Take some time to organize your holiday décor this year.  You likely have décor and ornaments that you have in storage, but typically don't display them.  Here are some tips on getting them organized.
Get all the ornaments and décor out from storage including the attic, basement and storage unit. Then, unwrap, touch and hold each piece.
Sort each piece into groups:
1. Use this year – I love these decorations.
2. Not going to use this year – I am keeping it simple this year, but love these decorations.
3. Not going to use this year – Actually, I never want to use these.
4. Not going to use this year – Family heirlooms, I must keep these forever, but will never use.
After the sort is done, plan for storage. Allow storage space for the décor and decorations you will use this year. Then, carefully pack up the family heirlooms that you want to keep, but will not necessarily display often. Lastly, take careful considerations to remove the items that do not bring you joy.
Have fun and enjoy this process. If organizing your holiday decor is overwhelming, a professional organizer can help.  See if Top Shelf Home Organizing can help you on your journey.  Contact Jayme to schedule a consult or chat about organizing.