Getting organized before the holidays can save your sanity and protect your pocket book. Having a holiday plan will keep you in check, and prevent impulse purchases that are so easy to make during this magical time of year.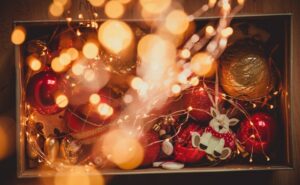 Here are some ideas on keeping the holidays organized:
Budget
Set a realistic budget for the holidays. Think beyond the gift budget, and include extra events and shows you may attend, additional dining out, entertaining, wardrobe purchases for events, and activities while you and the family are on holiday break.
Decorations
This year, you get a free pass for decorating early because you are getting your holiday decorations organized.  Getting your holiday décor out and organized will prevent you from purchasing new, unnecessary decorations.Follow these steps to effectively organize your holiday décor:
Step 1: Remove all holiday décor from storage
Step 2: Sort and categorize into: lights, tree ornaments, exterior decorations and interior decorations by room.
Step 3: Access what you have, what you love, what you don't like, and what you need to keep, but don't want to display
Step 4: Donate or sell what you don't want
Step 5: Organize and store what you need to keep, but don't want to display. This includes items such as family heirlooms, kids' homemade décor, etc.
Step 6: Check that lights work properly. Recycle those that do not work or will not be used.
Step 7: Take time to decorate carefully selecting the items you love that will serve your family well. Remove the rest.

Gifts
Create a list of people you want to buy gifts for (friends, family, teachers, service providers, etc.). Consider gifting experiences, memberships, services, outings/dates or consumables. Limit the physical gifts as they can be costly and under appreciated.
Sell
Do a quick inventory of items in your home that you can remove before the holidays. Sets of toys sell well online before the holidays. So you may consider selling those expensive sets of toys that your kids no longer have an interest in.This also a good time to resale your clothes online.  Poshmark, ThredUp or local consignment shops are great places to get a little return on your wardrobe.
If pre-holiday organizing has you overwhelmed, a professional organizer can help.  See if Top Shelf Home Organizing can help you on your journey.  Contact Jayme to schedule a consult or chat about organizing.