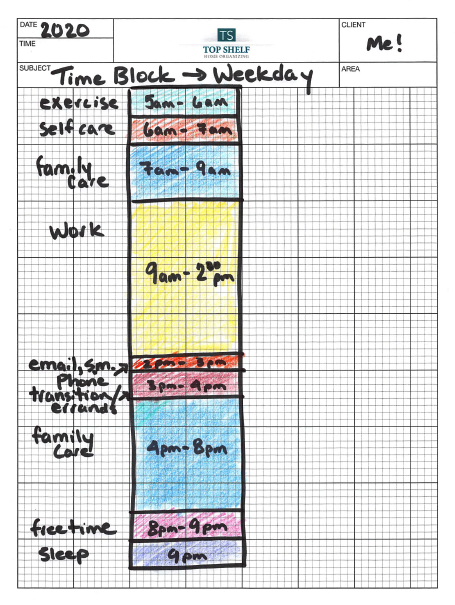 You should protect your time with time blocking, regardless of your responsibilities. Whether you are a busy professional well into your career, a full-time caregiver to your family, or just juggling many responsibilities, blocking your time will set boundaries around your professional and personal time and allow you to maximize your productivity.
Blocking your time is a written reminder of where you need be, literally and mentally, at any time of the day. Time blocking allows you to focus deeply on the task that needs to be completed. For example, when you have time blocked for self care in your schedule, all you need to focus on in the self care time block is caring for yourself. Just like budgeting your money, time blocking makes you aware of how you spend your time (and where you waste your time). Time blocking is a written commitment to what you spend your time on.
To start time blocking, make a list of your daily tasks, this is a high level list. Each task may have multiple sub-tasks within it. We will address these later. This is just a list of what you should do everyday. As an example, here is a list of Jayme's daily tasks. Included in the list are a couple items I would like to make time for (reading, a hobby and free time).
Sleep
Self care
Family care
Reading
Exercising
Work
Email, Social Media
Planning for tomorrow
Free time
Hobby
Combine smaller tasks into a task batch. Task batching is grouping smaller tasks into one chunk of time. This could include checking and responding to email, returning phone calls and checking social media. Another batch may include a few items that are complete during some personal time (reading, hobby and free time). A morning routine could also be batched, as these events naturally occur together and fit into a schedule by design (self care, family care and exercise). In this example, family care is also a batch.  Family care may include cooking, mealtime, bathing, homework help, and carpooling.
Your work time is naturally where you would task batch items you need to complete to make money. Notice I wrote, "make money."  This is where you mark your time as busy to focus on the items that eventually pay your bills. You tell your assistant or whoever you work with that your door is closed, and non-critical family chats and conversations can wait. This is the time you focus on your work. There are other times of your day where you may mark yourself busy, as well. These times may be when you are physically not available such as sleep and exercise.
Day theming works well if you have large portions in each day that you need to dedicate to different areas to meet the same goal. For example, if you work from 9am to 3pm each day, you may want to dedicate one day for client meetings and client follow up, another day for writing, another day for administrative tasks, and two other days for marketing. If you have projects, there are days of the week you may need to dedicate to the one or many projects you have going on.
Time blocking takes planning and revisions. Your initial plan for a time block may need to be revised frequently in the beginning. Give yourself some grace. If you are not seasoned to planning your day, keep it very simple in the beginning and allow flexibility. Life if going to happen and your schedule may go astray. You will find peace though knowing that there is a daily plan, and if you stick to the plan productivity will happen. As your productivity increases and evolves, you will find more free time in your day and your week.
Time blocking can be done with a simple paper calendar or planner, or with an online calendar or application. I would recommend starting with a simple paper and pencil to plan your time. After getting used to the idea of scheduling your time into blocks, try a digital calendar or app where you can experiment with colors and tags.
If planning your time causes you stress and anxiety, Top Shelf Home Organizing would love to help you on your journey. Jayme can help you plan your time blocking, set your goals, and keep you accountable to meeting those goals.