A simple closet that functions well is easier for a child to maintain than a complex, overstuffed closet. We consider the closet size, items in the closet, and implement simple solutions for kid-friendly closet organization. We share our secrets with you, so you can keep your kids' closets neat and tidy.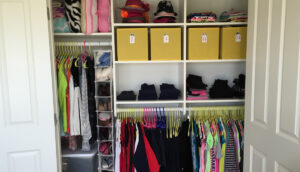 Keeping a kid's closet organized comes down to four considerations:
1. Size

Consider the size of the closet when determining how to organize. A small closet will need to be supplemented with a chest of drawers and hooks on a wall. A large closet can actually make the extra storage furniture in a room unnecessary, as most clothing items and accessories should fit. Be real about what can fit in the closet neatly and remove the rest. Lots of hanging space versus many shelves will allow for more items to fit. If you can hang all pants, tops, dresses, t-shirts, and leggings. Socks, undies, swimwear, and shorts can be stored on shelves or in bins.
2. Remove
Bedroom closets are for clothes. Unless you have an abnormally large closet, the toys will have to find a new home outside of the closet (and bedroom). Other family members' clothes can also be removed. Keepsakes can make their way into storage. Allocating a closet to only clothes will simplify the organizational system and make retrieval and replacement of items clear and simple.
3. Relevant and Current

A child's closet should house clothes that are relevant to their size and style. Outgrown clothes that are being saved for another family member can be stored in a clear bin with a label, in a storage area. If you have clothes that the child does not yet fit in, also place those in a clear bin with a label, in a storage area. Keeping only current and relevant times will help keep the closet practical.
4. Keep it Simple
Did we already mention this? Yes, keep the closet simple. Hang as much as you can. It is easier for a child to maintain tidiness when it is easy to see. The items a child wears frequently should be placed within reach so the child can access easily. If your child wears a uniform to school, place those on a lower rod. If you child wears athletic clothes to school, those should be front and center.
When items require a bin or drawer, don't stuff them full. Leave plenty of room so the items can be seen.  File or roll the clothing versus stacking, so items can be seen. The easier it is to see the items, the less likely a child will rummage through them and create a mess. Lesser-used clothes can be placed higher on the rods and shelves.  Off-season items that still fit your child can be placed on the top shelf with a label.
Follow these simple rules to help your child keep their closets neat and tidy.
We can help!
If removing items and visualizing storage solutions are too time-consuming or overwhelming for you, Top Shelf Home Organizing is happy to work with you. Contact Jayme for some great ideas on keeping your kid's closets neat and tidy.